THE MONTH IN WHITE
$105.00

CAD
Approx $80.18
USD
Friday Janurary 20, 2017, From 6pm - 9:30pm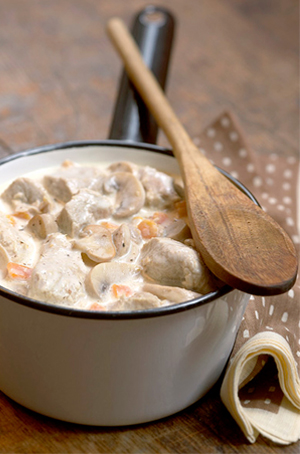 Alliance Française de Vancouver

Class in English
Registration mandatory before January 13
$98 for AF members
$105 for non-members
« THE MONTH IN WHITE » by Les French Gourmands

Blanquette de veau grand-mère & riz à l'impératrice

Among the greatest dishes cooked in France, the Blanquette de veau "grand-mère" counts among the top ones. Entice yourself with the stories and secrets that will allow it to master its preparation in the best tradition.
And add a sweet note to your meal with an imperial dessert: the Riz à l'impératrice!
Main ingredients: veal, vegetables, corn flour rice, vanilla, milk


* Enter the games and contest to make you king or queen of the kitchen.
* Learn how to cook these typical French recipes like chefs, put your hands on products and recipes.
* And finally join your friends at the table to enjoy the meal as connoisseurs.

As a small group, you will find this event to be a unique opportunity to connect with old and new friends and to have a fun and cultural approach of French Gastronomy.
Events are in English, for all to join!
Looking forward to meeting you for a great evening together!!


Please note
If you have any allergy or food intolerance, please be sure you can join the event safely.
If you have a question about ingredients, feel free to send us an email at info@lesfrenchgourmands.com.
//

« LE MOIS DU BLANC » par Les French Gourmands

Blanquette de veau grand-mère & riz à l'impératrice

Parmi les plats les plus classiques préparés en France, la blanquette de veau "grand-mère" compte parmi les plus connus. Faites-vous plaisir et découvrez les histoires et les secrets qui vous permettront de la préparer selon la plus grande tradition.
Et pour finir sur une touché sucrée, nous allons vous parler d'un dessert impérial : le riz à l'impératrice !
Ingrédients principaux : veau, légumes, farine de maïs – riz, vanille et lait
Prenez part aux jeux pour devenir roi ou reine de la cuisine,
Apprenez comment cuisiner des recettes typiquement françaises comme des chefs, en mettant la main à la pâte,
Et passez finalement à table entre amis pour déguster le repas en connaisseurs.
La taille réduite des groupes vous donnera l'occasion de rencontrer des amis – anciens ou nouveaux et de profiter au maximum de l'approche ludique et culturelle de la gastronomie française.
Les événements sont en anglais, pour permettre à chacun d'en profiter !
Nous avons hâte de vous retrouver lors d'une prochaine soirée !!

A noter
Si vous souffrez d'allergies ou d'intolérances alimentaires, assurez-vous de pouvoir participer à l'événement en toute sécurité.
Si vous avez une question concernant les ingrédients, envoyez-nous un courriel à info@lesfrenchgourmands.com.
---
With: