Home
›
Products
›
Afv-sold-out-movie-club-la-belle-epoque
SOLD OUT | MOVIE CLUB "LA BELLE EPOQUE"
Description:
WHEN: Wednesday, September 9, 2020 - 7pm
WHERE: Alliance Française de Vancouver Auditorium
HOW:
$4 for non-members / Free for AF members | $4 pour les non-membres / Gratuit pour les membres
As we are operating at reduced capacity, this screening is sold out.
But we are happy to organise a second screening on Wednesday September 16th. Book HERE
.
AFV Movie Club returns... with social distancing measures!
We are operating at a reduced capacity. We would appreciate it if you could

book your tickets in advance (applicable for free tickets too).

Please come early.

We will open the Auditorium doors (access from Cambie Street) 30 minutes prior to the screening.

We encourage and ask all guests to

wear a mask when visiting AFV

as much as possible

, in an effort to maintain a safe environment for all.

We ask all guests to wash their hands regularly. Hand sanitizers will also be available at the AFV entrance for your use.

Observe and maintain a

physical distance of 2 metres.

3 seats will be left empty between each guest with a 2m distance at the aisles.

All of our staff will be wearing masks and practise proper hand hygiene.

The Auditorium -seats and washrooms- will be disinfected between events/screenings.

All other high contact areas – door handles, pin-pads, etc. – will be cleaned and sanitized daily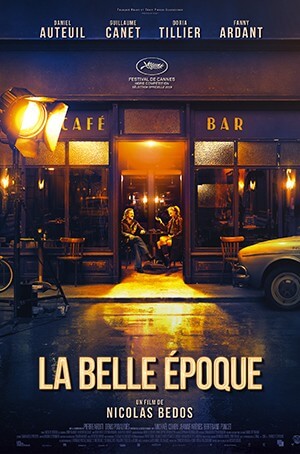 "LA BELLE EPOQUE"
By Nicolas Bedos, 2019
With Daniel Auteuil, Guillaume Canet, Doria Tillier, Fanny Ardant
In French with English subtitles
Victor, sixtysomething, has his life turned upside down the day that Antoine, a flourishing entrepreneur, offers him a unique new brand of entertainment. Using a combination of theatrical artifice and historical re-enactment, his company gives its clients the opportunity to delve back into the period of their choice. Victor decides to relive the most memorable week of his existence, 40 years earlier, when he met the love of his life...

Victor, un sexagénaire désabusé, voit sa vie bouleversée le jour où Antoine, un brillant entrepreneur, lui propose une attraction d'un genre nouveau : mélangeant artifices théâtraux et reconstitution historique, cette entreprise propose à ses clients de replonger dans l'époque de leur choix. Victor choisit alors de revivre la semaine la plus marquante de sa vie : celle où, 40 ans plus tôt, il rencontra le grand amour...