SPARKLING WINES TASTING: THE MAGIC OF BUBBLES
---
Friday, December 4 - 6.30pm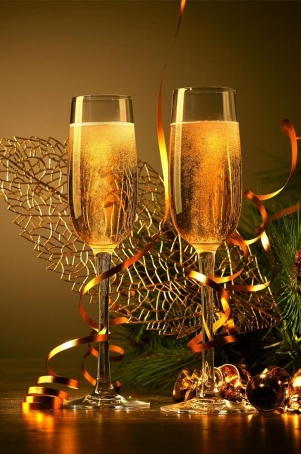 Auditorium Georges Brassens


$25 for AF members
$35 for non-members


« Un soir, l'âme du vin dansait dans les bouteilles… » (Baudelaire)

Join us for a cup of good cheer and sip on a dazzling selection of Sparkling Wines and Champagnes from France while improving your knowledge of everything wine-related.

The holiday season is all about celebrating with sparkling wine! Attend a focused seminar of the subtle nuances of French sparkling wine, including Champagne. Taste the wines, nibble on specific cheeses and appetizers!

A DETAILED AND INTERACTIVE SEMINAR
Bruno Gervès, French wine expert, will guide you through the basics with an interactive, geeky, 'research' intensive wine course. Much tasting. And wine discussion. Maps. All the fun of wine, with some intricate details. Practical knowledge. We'll share professional tips on what you really need to know about sparkling wines, as well as how to utilize your wine savvy in the real world. Good times, wine friends. Come on over and get educated!

As for Champagne, we can wax poetically all day long about the beauty of bubbles and the complex attributes of a fine Champagne. The yeast. The vineyard. The label. The fine bead. But, honestly, Champagne is just another wine, and we can break down the basics and the details. We'll make the approach a bit less intimidating, and the treat just that much more special!


A HANDS-ON EXPERIENCE
And because we believe that one sip is better than a thousand speeches, you will have plenty of opportunites to try your palate at the very wines you are learning about. The presentation and tastings will be accompanied with cheese from Benton Brothers and some "amuse-bouches".
Bring your friends to this unique event and dazzle your guests with your bubbly knowledge!
---