MOVIE CLUB "1:54"
Wednesday, June 27 - 7:30pm
Alliance Française de Vancouver
$4 for non-members / Free for AF members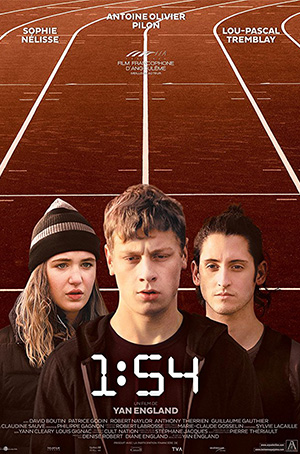 $4 pour les non-membres / Gratuit pour les membres
ENGLISH SUBTITLES / SOUS-TITRES ANGLAIS
"1:54"

2016
Un film de Yan England
Avec : Antoine-Olivier Pilon, Sophie Nélisse, Lou-Pascal Tremblay
Genre : Drame
Durée : 1h46
Tim, en secondaire 5, celui-ci subit les moqueries de Jeff depuis quatre ans. Mais lorsqu'il fait face au suicide de son unique et meilleur ami Francis, qui était lui aussi victime d'intimidation, Tim décide de frapper là où ça fait mal. Ainsi, il reprend l'athlétisme, sport dans lequel il a toujours excellé, au grand dam de Jeff. S'ensuit une rivalité entre les deux jeunes hommes, entre la victime et son intimidateur. Pour s'emparer de la seule place disponible aux nationaux d'athlétisme, Tim devra battre le temps de son adversaire au 800 mètres : 1:54

//

Tim, a shy 16 years old athlete, is both brilliant and talented. But the pressure he undergoes pushes him to the edge, where human limits reach the point of no return.