SOLD OUT | MOVIE CLUB | LES MISERABLES | OCTOBER 21ST
$4.00

CAD
Approx $3.15
USD
SOLD OUT!
WHEN: Wednesday, October 21st, 2020 - 7pm
WHERE: Alliance Française de Vancouver Auditorium
HOW:
$4 for non-members / Free for AF members | $4 pour les non-membres / Gratuit pour les membres

This event is sold out. There will be no tickets sold at the door.  
AFV Movie Club returns... with social distancing measures!
Please come early.

We will open the Auditorium doors (access from Cambie Street) 30 minutes prior to the screening.

We encourage and ask all guests to

wear a mask when visiting AFV

as much as possible

, in an effort to maintain a safe environment for all.

We ask all guests to wash their hands regularly. Hand sanitizers will also be available at the AFV entrance for your use.

Observe and maintain a

physical distance of 2 metres.

3 seats will be left empty between each guest with a 2m distance at the aisles.

All of our staff will be wearing masks and practise proper hand hygiene.

The Auditorium -seats and washrooms- will be disinfected between events/screenings.

All other high contact areas – door handles, pin-pads, etc. – will be cleaned and sanitized daily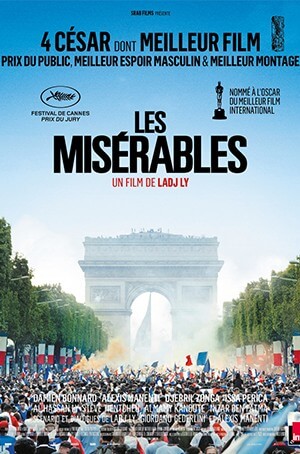 LES MISERABLES
By Ladj Ly, 2019
With Damien Bonnard, Alexis Manenti, Djebril Zonga
In French with English subtitles
Stéphane has recently joined the Anti-Crime Squad in Montfermeil, in the suburbs of Paris, France, where, Victor Hugo set his famed novel "Les Miserables". Alongside his new colleagues Chris and Gwada - both experienced members of the team - he quickly discovers tensions running high between local gangs. When the trio finds themselves overrun during the course of an arrest, a drone captures the encounter, threatening to expose the reality of everyday life. Inspired by the 2005 Paris riots, and Ladj Ly's short  film of the same name, Les Misérables is a provocative insight into the tensions between neighborhood residents and police.

Stéphane, tout juste arrivé de Cherbourg, intègre la Brigade Anti-Criminalité de Montfermeil, dans le 93. Il va faire la rencontre de ses nouveaux coéquipiers, Chris et Gwada, deux « Bacqueux » d'expérience. Il découvre rapidement les tensions entre les différents groupes du quartier. Alors qu'ils se trouvent débordés lors d'une interpellation, un drone filme leurs moindres faits et gestes…