MOVIE CLUB "LOUISE EN HIVER"
$4.00

CAD
Approx $3.15
USD
Wednesday, October 30, 2019 - 7:30pm
Alliance Française de Vancouver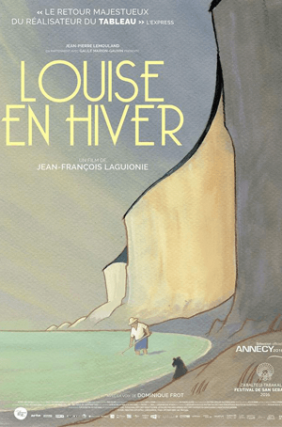 $4 for non-members / Free for AF members
$4 pour les non-membres / Gratuit pour les membres
ENGLISH SUBTITLES / SOUS-TITRES ANGLAIS


"Louise en Hiver" ("Louise by the shore")
By Jean François Laguionie
On the Occasion of the World Animated Film Day !


At the end of the summer, Louise sees the last train of the season, which serves the small seaside resort of Biligen, leaving without her. 
The city is deserted. The weather quickly deteriorates, the great equinox tides are now condemning electricity and means of communication.  Fragile and coquettish, much less armed than Robinson, Louise should not survive the winter. But she is not afraid and considers her abandonment as a bet. She will tame the natural elements and solitude. Her memories take the opportunity to invite themselves into the adventure...
À la fin de l'été, Louise voit le dernier train de la saison, qui dessert la petite station balnéaire de Biligen, partir sans elle. 
La ville est désertée. Le temps rapidement se dégrade, les grandes marées d'équinoxe surviennent condamnant maintenant électricité et moyens de communication. 
Fragile et coquette, bien moins armée que Robinson, Louise ne devrait pas survivre à l'hiver.
Mais elle n'a pas peur et considère son abandon comme un pari. Elle va apprivoiser les éléments naturels et la solitude. Ses souvenirs profitent de l'occasion pour s'inviter dans l'aventure...