MOVIE CLUB "IRREPROCHABLE"
Wednesday, May 29, 2019 - 7:30pm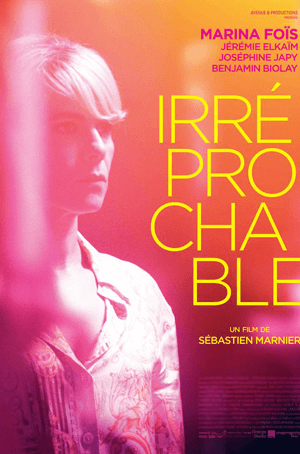 Alliance Française de Vancouver

$4 for non-members / Free for AF members
$4 pour les non-membres / Gratuit pour les membres
ENGLISH SUBTITLES / SOUS-TITRES ANGLAIS

"IRREPROCHABLE" ("FAULTLESS")

De Sébastien Marnier
Avec Marina Foïs, Jérémie Elkaïm, Benjamin Biolay

Sans emploi depuis un an, Constance revient dans sa ville natale quand elle apprend qu'un poste se libère dans l'agence immobilière où elle a démarré sa carrière, mais son ancien patron lui préfère une autre candidate plus jeune. Constance est alors prête à tout pour récupérer la place qu'elle estime être la sienne.
//

Having been fired from her old job as a real estate agent, 40 years old Constance faces severe pecuniary issues : she cannot rent a flat anymore and she doesn't find another job in Paris. With no other option left, she decides to call her former boss, from the small agency in La Rochelle where she started her career : to her surprise, he tells her that he is actually hiring, as the housing market appears to be growing in the area. He explains that he already found someone, but she is convinced she will get the job because of her experience and extensive qualifications. She does not : it is indeed Audrey, a younger and prettier woman, which is hired instead. This is too much for Constance to take...