MOVIE-CLUB: FATIMA
Wednesday, January 25, 2017, 7:30pm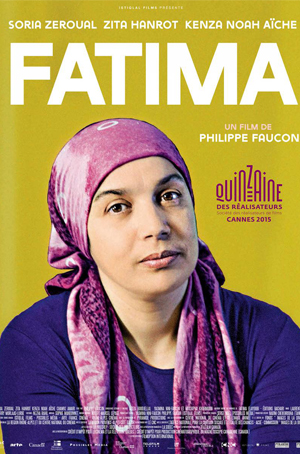 Alliance Française de Vancouver

$4 for non-members / Free for AF members
$4 pour les non-membres / Gratuit pour les membres
ENGLISH SUBTITLES / SOUS-TITRES ANGLAIS


"FATIMA" - 2015
Un film de Philippe FAUCON
Avec : Soria Zeroual, Zita Hanrot, Kenza Noah Aiche
Genre : Drame, Famille
Durée : 1h20


Fatima lives on her own with two daughters to support: 15-year old Souad, a teenager in revolt, and 18-year old Nesrine, who is starting medical school. Fatima speaks French poorly and is constantly frustrated by her daily interactions with her daughters. Her pride and joy, they are also a source of worry. To ensure the best possible future for them, she works odd hours as a cleaning woman. One day, she takes a fall on the stairs. On leave, Fatima begins to write to her daughters in Arabic that which she has never been able to express in French.
"Although a little monotonous in terms of pace, and exposing of its lead actor's limitations as a performer, this kind-hearted story celebrates the dignity of a not-so ordinary immigrant woman." The Hollywood Reporter

//

Fatima vit seule avec ses deux filles : Souad, 15 ans, adolescente en révolte, et Nesrine, 18 ans, qui commence des études de médecine. Fatima maîtrise mal le français et le vit comme une frustration dans ses rapports quotidiens avec ses filles. Toutes deux sont sa fierté, son moteur, son inquiétude aussi. Afin de leur offrir le meilleur avenir possible, Fatima travaille comme femme de ménage avec des horaires décalés. Un jour, elle chute dans un escalier. En arrêt de travail, Fatima se met à écrire en arabe ce qu'il ne lui a pas été possible de dire jusque-là en français à ses filles.
"Philippe Faucon use des plans fixes, cadre suffisamment près des corps pour ne laisser entrer à l'image que l'essentiel. (...) Aucune musique additionnelle ne vient ajouter un surcroît d'émotion, le scénario avance avec précision et une infinie douceur." par Thomas Baurez, Studio-Ciné Live

---
With the support of: