MOVIE CLUB "120 BATTEMENTS PAR MINUTE"
Wednesday, September 25, 2019 - 6:30pm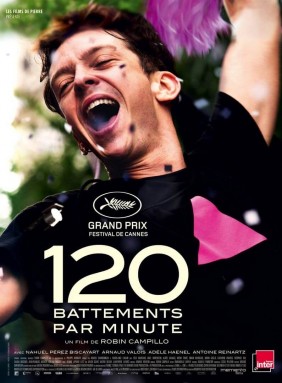 Alliance Française de Vancouver

$4 for non-members / Free for AF members
$4 pour les non-membres / Gratuit pour les membres
ENGLISH SUBTITLES



"120 Battements par minute"
("120 Beats per minute ")
By Robin Campillo
With Nahuel Pérez Biscayart, Arnaud Valois and Adèle Haenel

Followed by a discussion with the healthcare professional Sébastien Payan in partnership with RESO SANTÉ
Suivi d'une discussion avec le professionnel de la santé Sébastien Payan en partenariat avec RESO SANTÉ



Early'90s. While AIDS has been killing people for nearly ten years, Act Up-Paris activists are stepping up their efforts to fight the general indifference. As a newcomer to the group, Nathan was overwhelmed by Sean's radicality.
Début des années 90. Alors que le sida tue depuis près de dix ans, les militants d'Act Up-Paris multiplient les actions pour lutter contre l'indifférence générale. Nouveau venu dans le groupe, Nathan va être bouleversé par la radicalité de Sean.
With the support of :