LA SOIREE GASTRONOMIQUE
$250.00

CAD
Approx $190.45
USD
Date | Wednesday February 5, 2020 - 6:30pm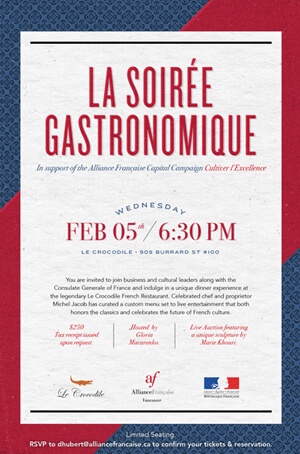 Venue | Le Crocodile French Restaurant
Price - Limited seating | $250
Tax receipt of $175 per seat available upon request,
please write to dhubert@alliancefrancaise.ca for any enquiry
In Support of the Alliance Française Capital Campaign

CULTIVER L'EXCELLENCE
You are invited to join business and cultural leaders along with the Consulate Generale of France and indulge in a unique dinner experience at the legendary Le Crocodile French Restaurant.
Celebrated chef and proprietor Michel Jacob has curated a custom menu set to live entertainment that both honors the classics and celebrates the future of French culture.
Event hosted by Gloria Macarenko
Live Auction Featuring a Unique Sculpture by Marie Khouri
Full program and menu available soon!

For more information about the Alliance Française Capital Campaign "Cultiver L'Excellence", please visit its dedicated page.
---
With the support of: