Home
›
Products
›
Afv-apero-chic-provence
Description:
---
Friday, September 25 - 6pm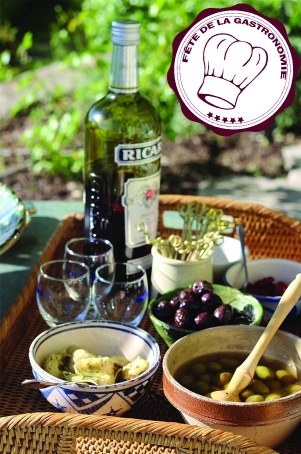 Auditorium Georges Brassens
$8 FOR NON-MEMBERS
$5 FOR MEMBERS
Apero Chic is back!
After a two months summer break, get ready to ease back into your old habits... or discover a new exciting monthly rendez-vous if you're joining us for the first time!
This month, let's invite the sun of the South of France and extand the summer just a little while longer. Taste the typical "apero" of Provence, with a glass of Pastis or a fresh rosé and some delicious "amuse-bouche". To finish putting you in the Provence mood, enjoy a selction of products 100% "provençaux" by our partner Provence en Couleur!
And since this is the period of the Fête de la Gastronomie, it's the perfect occasion to celebrate French cuisine through one of its beautiful and culinary interesting regions. And if you want more, this event is part of our Gastronomie serie:
And as always, you can take this opportunity to practice your French, or just relax after a hard day of work and enjoy your time in good company!

Join us for 1 or 2 hours depending on your agenda.
It's casual, fun and multicultural.
Parents will also be especially welcomed : Free supervised activities will be open for all kids at the library! BOOKING MANDATORY!

Must be 19 years old.
---
L'Apero Chic revient !
Après deux mois de pause estivale, reprenez les bonnes habitudes... ou découvrez un nouveau rendez-vous mensuel à ne pas manquer si vous nous rejoignez pour la première fois !
Ce mois-ci, invitons le soleil du Sud de la France et prolongeons l'été encore quelques temps. Goûtez à un apéritif provençal en dégustant un bon Pastis ou du rosé frais ainsi que de délicieux amuse-bouche. Enfin, pour achever de vous immerger dans l'ambiance provençale, découvrez une sélection de produits 100% provençaux par notre partenaire Provence en Couleur !
Et puisque nous serons en période de Fête de la Gastronomie, c'est la parfaite excuse pour célébrer la cuisine Française à travers l'une de ses belles régions aux saveurs si intéressantes ! Et pour aller plus loin, participez à l'une de nos soirées spéciale Gastronomie :


Et comme toujours, profitez de cette opportunité pour parler français, ou simplement vous détendre en bonne compagnie après une dure journée de travail!

Rejoignez nous pour une heure ou deux selon vos disponibilités.
Profitez d'une ambiance légère, décontractée et cosmopolite!
Les parents seront aussi spécialement les bienvenus: des activités surveillées et gratuites seront ouvertes à tous les enfants à la médiathèque ! UNIQUEMENT SUR RÉSERVATION!
Doit avoir 19 ans min.
---