VALENTINE'S DAY WITH YOUR FRIENDS
Friday February 17, 2017 - 6pm - 9:30pm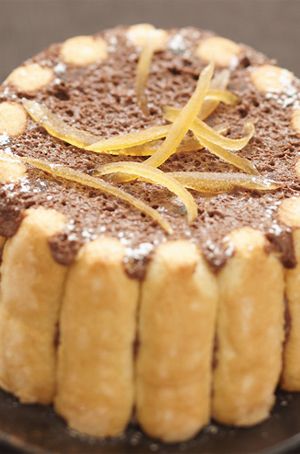 Alliance Française de Vancouver
Class in English
$98 for AF members
$105 for non-members
(Including a glass of wine!)


« VALENTINE'S DAY WITH YOUR FRIENDS » by Les French Gourmands.


Armagnac poultry & imperial chocolate charlotte


St Valentine should definitely be about celebrating love and friendship. Let's do that in the best tradition: around a gourmet meal! Join us to travel in the historical Armagnac territories to celebrate its gastronomy. And what a better way to celebrate Valentine's Day than with chocolate.
Main ingredients: poultry, Armagnac, fresh cream, morels and chocolate, biscuits, mandarine liquor

* Enter the games and contest to make you king or queen of the kitchen.
* Learn how to cook these typical French recipes like chefs, put your hands on products and recipes.
* And finally join your friends at the table to enjoy the meal as connoisseurs.
As a small group, you will find this event to be a unique opportunity to connect with old and new friends and to have a fun and cultural approach of French Gastronomy.
Events are in English, for all to join!
Looking forward to meeting you for a great evening together!!

Please note
If you have any allergy or food intolerance, please be sure you can join the event safely.
If you have a question about ingredients, feel free to send us an email at info@lesfrenchgourmands.com.

//


« SAINT-VALENTIN ENTRE COPAINS » by Les French Gourmands

Volaille à l'Armagnac & charlotte impériale
La St Valentin, c'est le moment de célébrer l'amour et l'amitié ! Nous vous proposons l'occasion idéale pour fêter ça comme il se doit : autour d'un repas gastronomique ! Rejoignez les French Gourmands et voyagez sur les terres des Armagnac de manière festive.
Et comment envisager la St Valentin sans une touche de chocolat.
Ingrédients: volaille, Armagnac, crème fraiche, morilles et chocolat, biscuits, liqueur de mandarine
Prenez part aux jeux pour devenir roi ou reine de la cuisine,
Apprenez comment cuisiner des recettes typiquement françaises comme des chefs, en mettant la main à la pâte,
Et passez finalement à table entre amis pour déguster le repas en connaisseurs.
La taille réduite des groupes vous donnera l'occasion de rencontrer des amis – anciens ou nouveaux et de profiter au maximum de l'approche ludique et culturelle de la gastronomie française.
Les événements sont en anglais, pour permettre à chacun d'en profiter !
Nous avons hâte de vous retrouver lors d'une prochaine soirée !!

A noter
Si vous souffrez d'allergies ou d'intolérances alimentaires, assurez-vous de pouvoir participer à l'événement en toute sécurité.
Si vous avez une question concernant les ingrédients, envoyez-nous un courriel à info@lesfrenchgourmands.com.


---
With: