THEATRE D'OBJET: JEUX DE FAMILLE
$0.00

CAD
Approx $0.00
USD
Saturday, January 28, 2017 - 4pm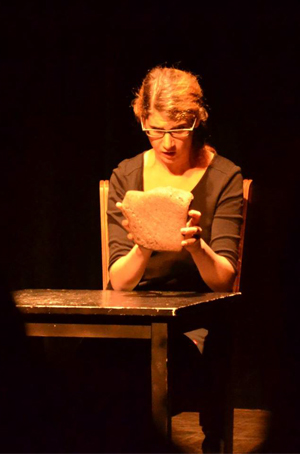 Alliance Française de Vancouver

BOOK YOUR TICKET NOW!

FREE FOR CHILDREN (-12)
$5 ADULT
SHOW IN FRENCH (about 30min / pour les enfants à partir de 6 ans / for kids from 6yo)

Le Theatre d'Objet, un langage en connexion avec l'univers de l'enfance (première phase de présentation à Vancouver)

ÉMILIE LECLERC et ANAÏS PELLIN, deux comédiennes en résidence d'artiste à l'Alliance Française ont travaillé sur leur prochain projet: JEUX DE FAMILLE. Elles vous proposent une immersion au coeur du théâtre d'objet avec un spectacle pour enfant sur le thème de la séparation.

Le théâtre d'objets est un art dit "du pauvre", un art "de rien", fait des objets trouvés, abandonnés, récupérés dans les greniers, ou du fond des tiroirs. L'objet devient le partenaire de l'acteur et le décor de l'histoire. Pour l'enfant, raconter des histoires à travers ses jouets et les objets qui l'entourent est une manière d'apprivoiser le réel.

Vous aurez l'occasion de voir jouer les comédiennes et « prendre la parole » sur le sujet sensible qu'est le divorce. Enfants et adultes pourront trouver à travers ce spectacle, sensible et ludique, une manière de mieux comprendre cet incident, si commun, et avec lequel nous sommes tous forcément en lien un jour ou l'autre, de près, ou de loin.

Synopsis

C'est une histoire simple. Ordinaire. Une histoire comme il en arrive tous les jours. Deux personnes, en l'occurrence un homme et une femme, ne s'aiment plus et décident de se séparer. Ils mettent ainsi fin à leur vie commune. Mais que ce passe-t-il pour l'enfant né de cette union et qui assiste, impuissant, à la destruction du cocon familial ?
À travers les épisodes de son quotidien (l'école, les vacances, les repas de famille, les temps de jeux) et au fil des saisons, Clémentine tente d'apprivoiser sa tristesse. Elle cherchera alors en elle la force et la détermination qui lui permettront de faire le deuil de « la famille des contes de fées ».

Soutenez Jeux de Famille ici !

//


The Theater of Object, a language in connection with the universe of childhood (First phase of representation in Vancouver)
ÉMILIE LECLERC and ANAÏS PELLIN, two actresses in artist residencies at the Alliance Française, worked on their next project: FAMILY GAMES. They propose you an immersion in the heart of the theater of object with a show for children about the separation.

The theater of objects is an art known as "the poor", an art "of nothing", made of objects found, abandoned, recovered in the attics, or from the bottom of the drawers. The object becomes the partner of the actor and the setting of the story. For the child, telling stories through his toys and the objects around him is a way of tame the real.

You will have the opportunity to see the actors "speak" about sensitive subject where children and adults can find through this spectacle extremely playful a way to better understand this unpleasent event, so common, and in which we are necessarily connected one day or another, near or far.

Synopsis

It's a simple story. Ordinary. A story like it happens every day. Two people, in this case a man and a woman, no longer love each other and decide to separate. They end their common life. But what happens to the child born of this union and helpless to the destruction of the family cocoon?
Through the episodes of her everyday life (school, holidays, family meals, times of games) and over the seasons, Clementine tries to tame her sadness. She will then seek the strength and determination that will allow her to mourn the "family of fairy tales."