THE AGE OF REASON 1 : HUMAN AND KNOWLEDGE
$0.00

CAD
Approx $0.00
USD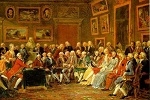 Product Duration: 1 day

Wednesday October 9 - 6.30pm
At the Alliance Francaise Auditorium
History of Philosophy - Histoire de la philosophie
Billingual Presentation - Présentation bilingue
A study on european modern philosophy and its efficiency in human behaviour towards information and knowledge. The Age of Reason to the Universal Network.
HUMAN AND KNOWLEDGE : BIRTH OF THE INDIVIDUAL
A single glance at the shape of new technologies reveals that we are living in an over-individualized society. How is the revolution initiated by the Age of Reason still a fundamental principle nowadays ? The will to promote the access to knowledge to all, to extract and think every human as a free agent of its own moves Europe towards experimental sciences and ways to acquire discoveries. The encyclopédie is the first attempt to analyse clearly a brutal and yet awakening world, to challenge Tradition and redefine Morals. For the first lecture of the series on the Enlightenment movement our journey will start with the notion of individual and reflect on the new tools provided to him.