SCREENING "LÀ OÙ POUSSENT LES COQUELICOTS"
$4.00

CAD
Approx $3.01
USD
Thursday, November 1st, 2018, 7:30pm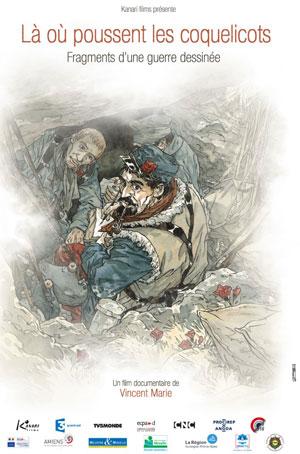 Alliance Française de Vancouver
$4 for non-members / Free for AF members
$4 pour les non-membres / Gratuit pour les membres
ENGLISH SUBTITLES / SOUS-TITRES ANGLAIS
2018 marks the end of the centenary of the First World War.
100 years since the end of the First World War, a conflict that involved over 100 countries from different continents and had an impact on lives of millions of people. One hundred years later, the Alliance Française and its partners will commemorate this significant milestone in world history and shine a light on the legacy of this war.
This centenary is to be marked by a program of screenings, exhibition and lectures taking place throughout November 2018 in the Alliance Française as well as outdoors.
//

2018 marque la fin du centenaire de la Première Guerre Mondiale.
100 ans depuis la fin de la Première Guerre, un conflit qui toucha plus de 100 pays de différents continents, et a eu un impacte sur la vie de millions de personnes. 100 ans plus tard, l'Alliance Française et ses partenaires commémorent cet événement majeur dans l'histoire du monde et met en lumière l'héritage de cette guerre.

Nous vous proposons un programme de projections, conférences et expositions qui auront lieu pendant le mois de novembre 2018 à l'Alliance Française et ailleurs.

"LÀ OÙ POUSSENT LES COQUELICOTS" - 2016 (English subtitles)
Un film de Vincent Marie
Genre : Documentaire
Durée : 52min
Where do the images from WWI that haunt our imagination come from? To actually see the war, not only tell it, but show it and personnify it : that is what comic books is doing today.
Through archives and history, the authors we meet in that documentary talk with the depth of time. They resuscitate First World War in our imagination : their drawing are more than lines.
The First World War has become their main subject for their graphic novels. Following them, we will sketch the fragmented memory of drawing chronicle of 14-18.
//

D'où viennent les images de la Première Guerre mondiale qui hantent notre imaginaire ? Voir la Grande Guerre, ne plus se contenter de la raconter, mais la montrer et l'incarner: voilà ce que propose aujourd'hui la bande dessinée.
En interrogeant l'archive et l'histoire, les auteurs présents dans ce film dialoguent avec la profondeur du temps. Ils ressuscitent la Première Guerre mondiale dans notre imaginaire: leurs dessins sont plus que des traits.
Ces artistes majeurs ont fait de la Grande Guerre le sujet principal de leur récit graphique. En leur compagnie, nous chercherons à esquisser la mémoire fragmentée d'une chronique dessinée de 14-18.