RENDEZ-VOUS APERO SPECIAL LES COCOTTES
Friday, March 31, 2017 - 6pm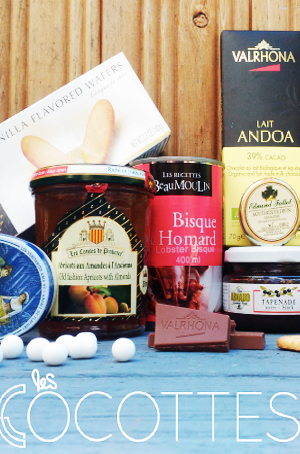 Alliance Française de Vancouver


$5 for AF members
$8 for non-members
(entrance + glass of wine)

French food is at your door step during our next social gathering!

Get on board and experience the authentic France through the Cocottes eyes, two frenchies on a mission to share our passion for the French cuisine & culture!
Les Cocottes is a bi-monthly subscription service that delivers carefully curated boxes filled with delicacies directly imported from France! You would be able to get a taste of the finest products from our regions and experience the traditional French art of living.
Whether you're a sweet tooth or you are craving for savory treats, Les Cocottes boxes are meant to please everyone: they select fine specialties from their homeland such as tapenade, pâté, nougats, high-quality teas, jam, spices and so much more!

For this event, don't wait for the postman to knock on your door: come to this next social gathering, get a culinary and cultural experience and enjoy a glass of wine!

By the way, how would you say Cocottes?

//

La nourriture française est à votre porte lors de notre prochain rassemblement social !

Venez découvrir la France authentique sous le regard des Cocottes, deux frenchies qui ont pour mission de partager leur passion pour la cuisine et la culture française!
Les Cocottes est un service d'abonnement bimensuel qui livre des boîtes soigneusement préparées et remplies de délicatesses importées directement de France ! Vous pourrez venir goûter aux meilleurs produits de nos régions et découvrir l'art de vivre traditionnel français.
Que vous soyez gourmand ou que vous ayez envie de gourmandises, les boîtes Les Cocottes sont faites pour plaire à tout le monde: elles sélectionnent des spécialités fines de notre pays comme la tapenade, le pâté, les nougats, les thés de grande qualité, les confitures, les épices et bien plus encore !
Pour cet événement, n'attendez pas que le facteur frappe à votre porte: venez directement profitez d'une expérience culinaire et culturelle et dégustez un verre de vin !
Soit dit en passant, comment diriez-vous Cocottes ?
---