Home
›
Products
›
Afv-rendez-vous-apero-special-galette-des-rois-3452
RENDEZ-VOUS APERO SPECIAL GALETTE DES ROIS
Description:
Friday, January 26 - 6pm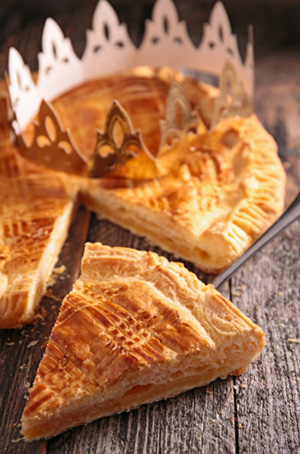 Alliance Française de Vancouver
$5 for AF members
$8 for non-members
(entrance + glass of wine)
Let's start the year with a traditionnal French celebration: the Galette des rois!
The cake is made of pâte feuilletée (puff pastry), frangipane (filling made from or flavored like almonds) or brioche (sweet bun). A fève (charm) in a shape of a figurine is hidden in the cake.

Come experience this beloved French tradition, and enjoy the delicious galette, made specially by our partner Plaisir Sucré!

If you get the charm hidden in the Galettes, you will be crowned Queen or King!


//


Commencez l'année avec une tradition française gourmande: la Galette des rois!

Venez déguster cette délicieuse tarte, faite de pâte feuilletée, de frangipane ou de brioche, et offerte par notre partenaire Plaisir Sucré!

Qui sera couronné roi ou reine de la soirée?



Plaisir Sucré is a family owned business located in the heart of Kitsilano, where you can enjoy freshly baked butter croissants, pain au chocolat, almond croissants and more while your child is playing in the kids friendly corner.

"The croissants, pain au chocolat and baguette were delicious and the service was excellent! Thank you for a little bit of France in Vancouver!"

"Love this place. Everything is excellent Wonderful croissants, incredible breads and the desserts are perfect and reasonably priced"

"This is a great bakery/café. The owner is a character and oh so French. As for the baked goods- très bon! The almond croissant is flaky, not too sweet, and absolutely delicious. The macaroons are excellent and are priced well. The chocolate mousse tart is unbelievable. It's a great bakery!"

"Phenomenal French bakery serving the best croissants in Vancouver! Very nice ie staff and authentically French."
---
With the support of: