Home
›
Products
›
Afv-rendez-vous-apero-special-crepes
RENDEZ-VOUS APERO SPECIAL CREPES
Description:
Friday, February 23 - 6pm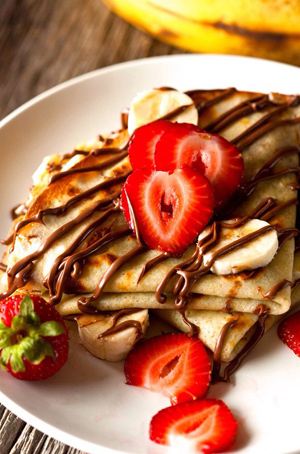 Alliance Française de Vancouver
$5 for AF members
$8 for non-members
(entrance + 1 crêpe + 1 glass of wine)


Crêpe-lovers rejoice! Come taste a delicious French staple!
The French have really figured out the art of celebrations based on food! Do you know that the French have a whole day dedicated to crêpes? It is called "La Chandeleur" (Candlemas) and it is celebrated every year on February 2.

Apart from eating lots of crepes stuffed with all sorts of fillings, it's a day for fortune telling and legend! For example, if you can flip a pancake with one hand, whilst in the other holding a gold coin – your immediate family will prosper financially all through the year!

Come enjoy home-made crêpes while sipping a delicious glass of wine!


Amoureux des crêpes, réjouissez-vous! Venez déguster une spécialité de la cuisine française!
Les Français maîtrisent l'art des fêtes liées à la nourriture! Savez-vous qu'un jour entier est dédié aux crêpes? Il s'agit de La Chandeleur, célébrée chaque année le 2 février.

En plus de manger des crêpes remplies de toutes sortes de garnitures, ce jour est associé à de nombreuses légendes. Par exemple, si vous pouvez faire sauter une crêpe avec une seule main, tout en tenant une pièce d'or dans l'autre main, votre famille ne manquera pas d'argent pendant l'année.

Venez déguster des crêpes faites maison tout en buvant un verre de vin!