RENDEZ-VOUS APERO: CARNAVAL 2019
Friday, February 22 - 6pm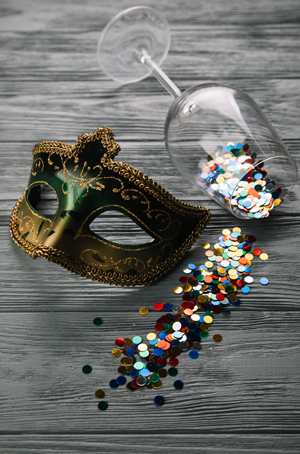 Alliance Française de Vancouver


$5 for AF members
$8 for non-members
(entrance + glass of wine)


Join us for our famous Rendez-vous Apéro, a casual get-together to chat and practice your French while sipping a glass of wine!
This month, discover the
French Carnival
atmosphere! Carnival is a festive period around February involving public celebrations: parades, public street parties, confetti, streamers, people dressed in elaborate costumes and masks...
the crazier the better!!
In some parts of France, Carnivals even involve food fights!
The
Nice Carnival
is one of the oldest and most famous Carnival in the world: hundreds of thousands of people gather every year to celebrate it. It dates back to 1294, and instead of food, participants "fight" with flowers: mimosas, lilies and daisies are thrown in a joyful mess.
For this Apéro, we will keep things a little bit more under control, no food nor flower fight, no need to come with a costume (although feel free to do so), but a warm and festive atmosphere that will give you a first taste of Carnival.
//
Retrouvez notre rendez-vous mensuel pour se rencontrer, discuter et échanger autour d'un verre de vin en toute convivialité !

Ce mois-ci, découvrez l'atmosphère des Carnavals français ! Les carnavals sont des célébrations publiques qui se tiennent tous les ans autour du mois de février : des parades dans les rues de la ville, des fêtes géantes, des confettis et serpentins qui volent à tout-va, des déguisements impressionnants... Plus on est de fous, plus on rit ! Dans certaines villes de France, les Carnavals sont aussi l'occasion de gigantesques batailles de nourriture !

Le Carnaval de Nice est l'un des plus vieux et des plus célèbres du monde, attirant chaque année des centaines de milliers de spectateurs et participants. La plus vieille mention de cet événement remonte à 1294. A Nice, pas de bataille de nourriture, mais à la place, une bataille de fleurs : mimosas, lis et marguerites sont envoyés depuis des chars sur la foule, dans un joyeux bazar.

A l'Alliance, les choses resteront plus calmes, pas de batailles ni de déguisements obligatoires (mais tout de même bienvenus), dans une atmosphère festive et chaleureuse qui vous donnera un avant-goût du Carnaval à la française.