MOVIE DINNER : L'AMOUR DURE 3 ANS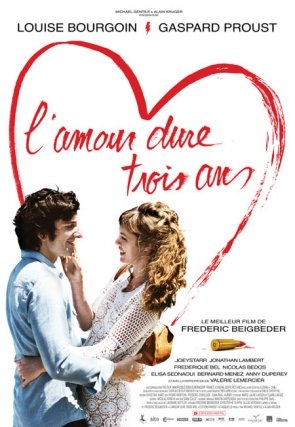 Friday February 7 – 6.30pm
At the Alliance Française Auditorium
Limited space!
$20 non-members

BOOKING ESSENTIAL
Please login to benefit from the discounts for members and students!
Menu :
La Rencontre : velouté de courgettes et crevettes roses
The Date: zucchini velouté with prawns
L'Idylle : Poulet au miel et safran sur son lit d'amandes (possibilité de choisir un plat végétarien)
The Idyll: Chicken with honey and saffron on almonds (possibility to choose vegetarian dish)
La Séparation : Délice de chocolat à la menthe
The Separation: Delight of Chocolate Mint
"L'amour dure trois ans" directed by Frederic Beigbeder
-14A
1h38min – 2012 – Comedy / Romance – in French with English subtitles.
Starring Gaspard Proust, Louise Bourgouin, Joey Starr....

A heartbroken literary critic turns his despair into creativity following a bitter divorce, only to encounter an enchanting beauty who poses a major challenge to his newfound cynicism. Marc Marronnier thought his marriage was going well until his wife deemed him immature, and left him for a high-profile writer. Devastated, he began filtering all of his heartache into a misanthropic manuscript decrying the virtues of true love. But later, when Marc falls hard for his cousin's radiant and gorgeouswife, his entire life is turned upside down.