MOVIE CLUB "UNE HEURE DE TRANQUILITE"
$4.00

CAD
Approx $3.16
USD
Wednesday, March 30 - 7:30pm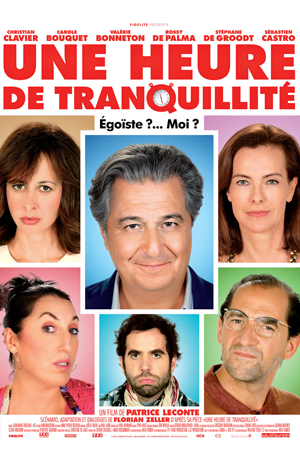 Auditorium Georges Brassens (6161 Cambie St)
$4 for non-members / Free for AF members
$4 pour les non-membres / Gratuit pour les membres
ENGLISH SUBTITLES / SOUS-TITRES ANGLAIS
"UNE HEURE DE TRANQUILITE" / "DO NOT DISTURB" - 2015
Un film de Patrice Leconte
Avec : Christian Clavier, Valérie Bonneton, Carole Bouquet
Genre : Comédie
Durée : 1h20

Michel, passionné de jazz, vient de dénicher un album rare qu'il rêve d'écouter tranquillement dans son salon. Mais le monde entier semble s'être ligué contre lui : sa femme choisit justement ce moment pour lui faire une révélation inopportune, son fils débarque à l'improviste, un de ses amis frappe à la porte, tandis que sa mère ne cesse de l'appeler sur son portable… Sans parler du fait qu'il s'agit ce jour-là de la fameuse Fête des Voisins… Manipulateur, menteur, Michel est prêt à tout pour avoir la paix. Est-il encore possible, aujourd'hui, de disposer d'une petite heure de tranquillité ?

Michel, passionate about jazz, has just discovered a rare album that he dreams to listen quietly in his living room. But the world seems to have conspired against him, his wife just chose that moment to make her untimely revelation, his son shows up unexpectedly, one of his friends is knocking on the door, while his mother keeps calling him on his mobile. Not to mention the fact that it's today the famous Neighbours' Day. Manipulator, liar, Michel is desperate to have peace. Is it still possible today to have an hour of peace?