MOVIE CLUB: "UNE BOUTEILLE DANS LA MER DE GAZA"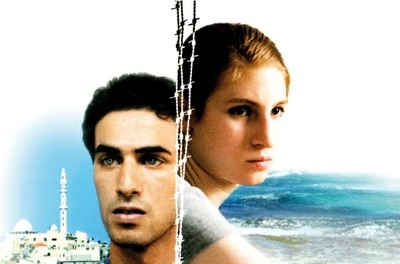 MIDDLE EAST ON SCREEN (No2)
Wednesday, May 21 - 7:00pm
At Alliance Française auditorium
"Une bouteille dans la mer de Gaza" (A bottle in the Gaza Sea) directed by Thierry Binisti
1h39min - 2011 - Drama - with English subtitles
Starring Agathe Bonitzer and Mahmud Shalaby.
Tai is 17 years old. Naim is 20. She's Israeli. He's Palestinian. She lives in Jerusalem. He lives in Gaza. They were born in a land of scorched earth, where fathers bury their children. They must endure an explosive situation that is not of their choosing at an age where young people are falling in love and taking their place in adult life. A bottle thrown in the sea and a correspondence by email nurture the slender hope that their relationship might give them the strength to confront this harsh reality to grapple with it, and thereby ever so slightly change it. Only 60 miles separate them but how many bombings, check-points, sleepless nights and bloodstained days stand between them?
"Directed and co-written by Thierry Binisti, a TV veteran, the film boasts solid acting (especially from red-haired Bonitzer) and handsome cinematography." - New York Post
"Fueled by neither anger nor religious extremism - the director, Thierry Binisti, remains rigidly nonpartisan - "Bottle" is a gentle pairing of youthful idealism and tenacious hope." - The New York Times