MOVIE CLUB "TAMARA"
This product can't be ordered online.
Contact us to order it.
Wednesday, November 29, 2017, 7:30pm
Auditorium Georges Brassens, Alliance Française de Vancouver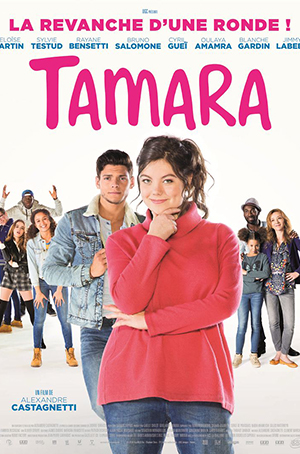 $4 for non-members / Free for AF members
$4 pour les non-membres / Gratuit pour les membres
ENGLISH SUBTITLES / SOUS-TITRES ANGLAIS


"TAMARA"
("Tamara") - 2016
Un film de Alexandre Castagnetti
Avec : Héloïse Martin, Sylvie Testud, Cyril Gueï
Genre : Comédie
Durée : 1h40

Tamara, 15 ans, complexée par ses rondeurs, décide à son entrée en seconde de se débarrasser de son étiquette de « grosse ». Pour clouer le bec des mauvaises langues, elle fait le pari avec sa meilleure amie de sortir avec le premier garçon qui passera la porte de la classe. Manque de bol, ce garçon s'avère être Diego, le plus beau mec du lycée. Le pari se complique pour Tamara…. Entre les sales coups des garces du lycée, une mère poule, les conseils "drague" de sa petite soeur, Tamara va vivre une année mémorable !


//


This movie is an adaptation of the comic strip of the same name by Zidrou and Christian Darasse.
Fed up with being considered as the "fat girl", curvy teen Tamara resolves to hook up with Diego, the hottest guy in high school. A task that will change her life.
---
With the support of: