MOVIE CLUB "PATIENTS"
$4.00

CAD
Approx $3.14
USD
Wednesday May 30 - 7:30pm
Alliance Française de Vancouver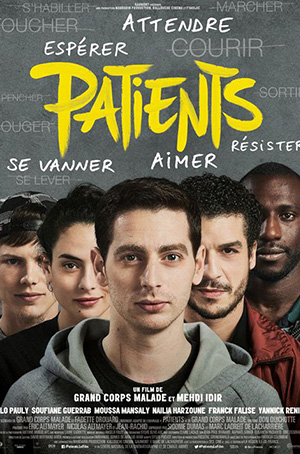 $4 for non-members / Free for AF members
$4 pour les non-membres / Gratuit pour les membres
ENGLISH SUBTITLES / SOUS-TITRES ANGLAIS

"PATIENTS" - 2017
Un film de Grand Corps Malade et Mehdi Idir
Avec : Pablo Pauly, Soufiane Guerrab, Moussa Mansaly
Genre : Drame, Comédie
Durée : 2h

Se laver, s'habiller, marcher, jouer au basket, voici ce que Ben ne peut plus faire à son arrivée dans un centre de rééducation suite à un grave accident. Ses nouveaux amis sont tétras, paras, traumas crâniens.... Bref, toute la crème du handicap. Ensemble ils vont apprendre la patience. Ils vont résister, se vanner, s'engueuler, se séduire mais surtout trouver l'énergie pour réapprendre à vivre. Patients est l'histoire d'une renaissance, d'un voyage chaotique fait de victoires et de défaites, de larmes et d'éclats de rire, mais surtout de rencontres : on ne guérit pas seul.


//



Following a serious sports accident in a swimming pool, Ben, now an incomplete quadriplegic, arrives in a rehabilitation center. He meets other handicapped people (tetraplegics, paraplegics, traumatized crania), all victims of accidents, as well as a handicapped since his early childhood. Between impotence, despair and resignation, in the daily struggle to learn to move a finger or to hold a fork, some slowly find a little mobility while others receive the verdict of the handicap for life. Despite everything, hope and friendship help them endure their difficulties.