MOVIE CLUB "MAL DE PIERRES"
$4.00

CAD
Approx $3.00
USD
Wednesday, April 25 - 7:30pm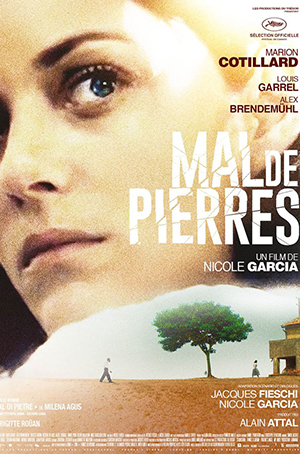 Alliance Française de Vancouver
$4 for non-members / Free for AF members
$4 pour les non-membres / Gratuit pour les membres
ENGLISH SUBTITLES / SOUS-TITRES ANGLAIS
INTERDIT AUX MOINS DE 14 ANS

"MAL DE PIERRES"
("From the Land of the Moon") - 2016
Un film de Nicole Garcia
Avec : Marion Cotillard, Louis Garrel, Alex Brendemühl
Genre : Drame
Durée : 2h01

Gabrielle a grandi dans la petite bourgeoisie agricole où son rêve d'une passion absolue fait scandale. A une époque où l'on destine d'abord les femmes au mariage, elle dérange, on la croit folle. Ses parents la donnent à José, un ouvrier saisonnier, chargé de faire d'elle une femme respectable. Gabrielle dit ne pas l'aimer, se voit enterrée vivante.
Lorsqu'on l'envoie en cure thermale pour soigner ses calculs rénaux, son mal de pierres, un lieutenant blessé dans la guerre d'Indochine, André Sauvage, fait renaître en elle cette urgence d'aimer. Ils fuiront ensemble, elle se le jure, et il semble répondre à son désir. Cette fois on ne lui prendra pas ce qu'elle nomme « la chose principale ». Gabrielle veut aller au bout de son rêve.


//

OVER 14 YEARS OLD ONLY

Marion Cotillard stars as Gabrielle in this melodrama about an idealistic woman trapped in a marriage of convenience in post-World War II France. When Gabrielle's husband, a Spanish farmer named Jose (Alex Brendemühl), sends her to the Alps to find a cure for her kidney stones, Gabrielle falls madly in love with an injured veteran (Louis Garrel) of France's Indochinese War. Directed by Nicole Garcia, this period drama is based on a novella by Italian author Milena Agus.