MOVIE-CLUB: L'HERMINE
Wednesday, February 22, 2017, 7:30pm
Alliance Française de Vancouver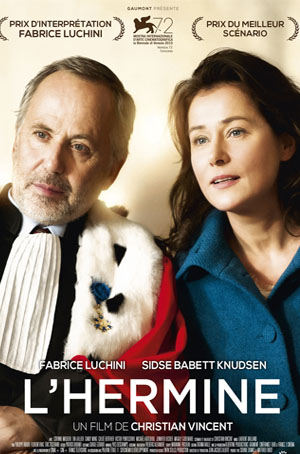 $4 for non-members / Free for AF members
$4 pour les non-membres / Gratuit pour les membres
ENGLISH SUBTITLES / SOUS-TITRES ANGLAIS


"L'HERMINE" - 2015
Un film de Christian Vincent
Avec : Fabrice Luchini, Sidse Babett Knudsen, Eva Lallier
Genre : Drame, Comedy, Crime
Durée : 1h38

Michel Racine is a feared presiding judge of the Assize Court. He's as tough with himself as he is with others; he's known as the "two-figure judge." In his courtroom, people are always sentenced to more than ten years. Everything changes the day that Racine finds himself face-to-face with Ditte Lorensen-Coteret. She is a member of the jury who will judge a man accused of murder. Six years earlier, Racine had loved Ditte. Almost secretly. She is perhaps the only woman he has ever loved.
" Warm, humane turns by Fabrice Luchini and Sidse Babett Knudsen rep the chief virtue of this courtroom-set almost-romance." by Guy Lodge - Variety

//

Michel Racine est un Président de cour d'assises redouté. Aussi dur avec lui qu'avec les autres, on l'appelle " le Président à deux chiffres ". Avec lui, on en prend toujours pour plus de dix ans. Tout bascule le jour où Racine retrouve Ditte Lorensen-Coteret. Elle fait parti du jury qui va devoir juger un homme accusé d'homicide. Six ans auparavant, Racine a aimé cette femme. Presque en secret. Peut-être la seule femme qu'il ait jamais aimée.

"Un véritable bijou d'intelligeance porté par un Luchini poignant." par Laurent Djian - Studio Ciné Live


---
With the support of: