MOVIE CLUB "LES GARCONS ET GUILLAUME A TABLE"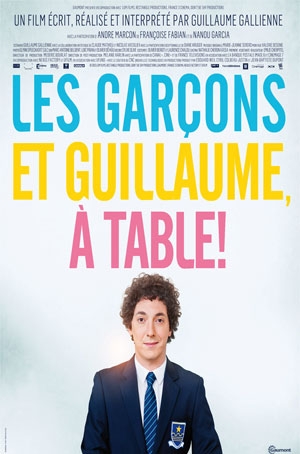 Wednesday, December 3 - 7:30pm
At Alliance Française auditorium

$4.00 for non-members, FREE for members.
DISCOUNT CODE FOR MEMBERS ONLY! :

AFCINE



"Les Garçons et Guillaume à table" ("Me, Myself and Mum") directed by Guillaume Galienne
1h53 - 2013 - Comedy - with English subtitles - PG


Mrs. Gallienne, a rather temperamental upper middle-class lady, has three children, two of whom she considers as her sons and another she calls Guillaume. Logically indeed, the latter teenage creature does not picture himself as a boy, rather as a girl or at best as a homosexual. But how can a mother act in such an objectionable way? And why? Through a series of painful chain of experiences, Guillaume will discover little by little who he is actually and will manage to break free from her pernicious influence.


This movie was screened in the Directors' Fortnight section at the 2013 Cannes Film Festival where it won the top prize (Art Cinema Award) and the Prix SACD.In January 2014 the film was nominated for ten César Awards at the 39th César Awards and won the awards for Best Film and Best First Film.


"Pointedly theatrical in style, and full of strong comic set-pieces, Me, Myself and Mum is a warm-hearted crowd-pleaser" - The Hollywood Reporter


"As a member of the prestigious Comedie Française, Gallienne already has the hallmark of a fine actor and he uses his skills to cast a sympathetic, but not uncritical, eye over his younger self. Dubbed by some as a 'Gallic Woody Allen', he displays the same ability for mining self-obsession and self-deprecation for comedy as the veteran American director." - French Cinema Review