MOVIE-CLUB LE PERE NOEL
Wednesday, November 30, 2016, 7:30pm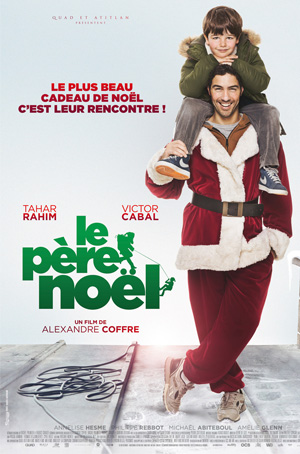 Alliance Française de Vancouver

$4 for non-members / Free for AF members
$4 pour les non-membres / Gratuit pour les membres
ENGLISH SUBTITLES / SOUS-TITRES ANGLAIS

"LE PERE NOEL" - 2014
Un film de Alexandre Coffre
Avec : Tahar Rahim, Victor Cabal, Annelise Hesme
Genre : Comedy
Durée : 1h20


More than anything else in the world, six-year-old Antoine wants to take a sleigh ride through the sky with Father Christmas. So when, as if by magic, Santa lands on his balcony on Christmas eve, the child agrees to be his apprentice, unaware that "Father Christmas" is in fact a wily burglar set on stealing the neighbourhood's riches.
"Let's shout it from the rooftops, and from the chimneys, " Santa Claus "is THE comedy of the season. All generations will come out delighted and moved." Pierre Vavasseur - Le Parisien

//


En cette nuit de Noël, Antoine, six ans, n'a qu'une idée en tête : rencontrer le Père Noël et faire un tour de traîneau avec lui dans les étoiles…
Alors quand celui-ci tombe comme par magie sur son balcon, Antoine est trop émerveillé pour voir en ce Père Noël un cambrioleur déguisé, qui dérobe les bijoux dans les appartements des beaux quartiers.
Et malgré tous les efforts du Père Noël pour se débarrasser d'un Antoine déterminé, ils vont former alors un duo invraisemblable, parcourant Paris de toit en toit, chacun à la recherche de son rêve…

"
Crions-le sur les toits, et par les conduits de cheminées, le "Père Noël" est LA comédie de saison. Vous en sortirez, toutes générations confondues, enchantés et émus
." Pierre Vavasseur - Le Parisien
---
With the support of: