MOVIE CLUB "LA FILLE DE BREST"
Wednesday, October 25 - 7:30pm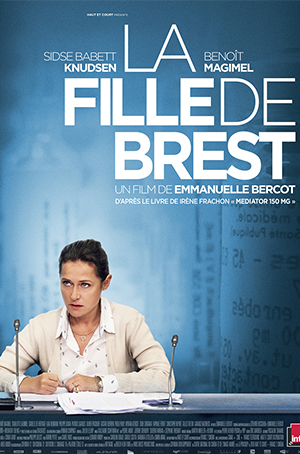 Auditorium Georges Brassens, Alliance Française de Vancouver
$4 for non-members / Free for AF members
$4 pour les non-membres / Gratuit pour les membres
ENGLISH SUBTITLES / SOUS-TITRES ANGLAIS


"LA FILLE DE BREST"
("150 Milligrams") - 2016

Un film de Emmanuelle Bercot
Avec : Sidse Babett Knudsen, Benoît Magimel, Charlotte Laemmel
Genre : Drame
Durée : 2h08

Dans son hôpital de Brest, une pneumologue découvre un lien direct entre des morts suspectes et la prise d'un médicament commercialisé depuis 30 ans, le Mediator. De l'isolement des débuts à l'explosion médiatique de l'affaire, l'histoire inspirée de la vie d'Irène Frachon est une bataille de David contre Goliath pour voir enfin triompher la vérité.
//

Irène Frachon, a doctor who lives in the Breton town of Brest, dares to stand up to the French health and pharmaceutical industry, helping to uncover the media scandal surrounding the commercialization of a controversial medicine whose side effects have caused the death of hundreds of people.