MOVIE CLUB "JULES ET JIM"
Wednesday, September 27, 2017, 7:30pm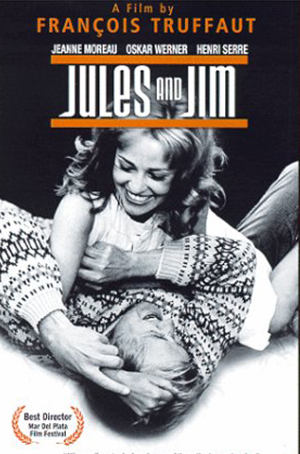 Alliance Française de Vancouver

HOMMAGE À JEANNE MOREAU / TRIBUTE TO JEANNE MOREAU
$4 for non-members / Free for AF members
$4 pour les non-membres / Gratuit pour les membres
ENGLISH SUBTITLES / SOUS-TITRES ANGLAIS

"JULES ET JIM" - 1962
Un film de François Truffaut
Avec : Jeanne Moreau, Oskar Werner et Henri Serre
Genre : Drame
Durée : 1h42
Synopsis:
Paris, dans les années 1900 : Jules, autrichien et Jim, français, deux amis artistes, sont épris de la même femme, Catherine. C'est Jules qui épouse Catherine. La guerre les sépare. Ils se retrouvent en 1918. Catherine n'aime plus Jules et tombe amoureuse de Jim.



Jeanne Moreau (23 janvier 1928 - 31 juillet 2017) était une actrice, chanteuse, scénariste et réalisatrice française. Elle a remporté le prix de la meilleure actrice au Festival de Cannes pour Moderato cantabile (1960), le prix BAFTA pour la meilleure actrice étrangère pour Viva Maria! (1965) et le César de la meilleure actrice pour La Vieille qui marchait dans la mer (1992).
Jeanne Moreau a fait ses débuts en théâtre en 1947 et s'est imposée comme l'une des actrices principales de la Comédie-Française. Elle a commencé à jouer de petits rôles dans des films en 1949, dont une performance impressionnante avec Fernandel dans Meurtres ? (1950) et aux côtés de Jean Gabin en tant que showgirl dans le film Touchez pas au grisbi (1954). Elle a gagné en importance en tant que star dans Ascenseur pour l'échafaud (1958), dirigé par Louis Malle, et Jules et Jim (1962), dirigé par François Truffaut. Plus prolifique au cours des années 1960, Jeanne Moreau a continué à apparaître dans les films jusqu'à la fin de sa vie.


//

In Paris, before WWI, two friends, Jules (Austrian) and Jim (French) fall in love with the same woman, Catherine. But Catherine loves and marries Jules. After the war, when they meet again in Germany, Catherine starts to love Jim...
Jeanne Moreau (23 January 1928 – 31 July 2017) was a French actress, singer, screenwriter and director. She won the Cannes Film Festival Award for Best Actress for Seven Days... Seven Nights (1960), the BAFTA Award for Best Foreign Actress for Viva Maria! (1965), and the César Award for Best Actress for The Old Lady Who Walked in the Sea (1992). She was also the recipient of several lifetime awards, including a BAFTA Fellowship in 1996.
Moreau made her theatrical debut in 1947, and established herself as one of the leading actresses of the Comédie-Française. She began playing small roles in films in 1949, with impressive performances in the Fernandel vehicle Meurtres? (Three Sinners, 1950) and alongside Jean Gabin as a showgirl/gangster's moll in the film Touchez pas au grisbi (1954). She achieved prominence as the star of Elevator to the Gallows (1958), directed by Louis Malle, and Jules et Jim (1962), directed by François Truffaut. Most prolific during the 1960s, Moreau continued to appear in films into her eighties.