MOVIE CLUB "FRANTZ"
$4.00

CAD
Approx $3.01
USD
Wednesday, January 31 - 7:30pm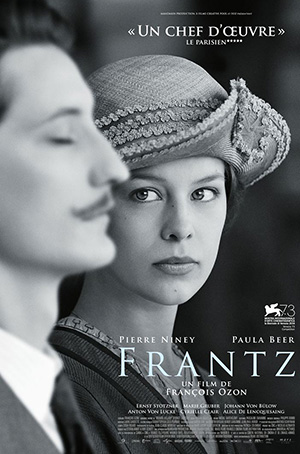 Auditorium Georges Brassens, Alliance Française de Vancouver
$4 for non-members / Free for AF members
$4 pour les non-membres / Gratuit pour les membres
ENGLISH SUBTITLE S / SOUS-TITRES ANGLAIS

"FRANTZ" (2016)

Un film de François Ozon
Avec : Pierre Niney, Paula Beer, Ernst Stötzner
Genre : Drame
Durée : 1h53
Au lendemain de la guerre 14-18, dans une petite ville allemande, Anna se rend tous les jours sur la tombe de son fiancé, Frantz, mort sur le front en France. Mais ce jour-là, un jeune Français, Adrien, est venu se recueillir sur la tombe de son ami allemand. Cette présence à la suite de la défaite allemande va provoquer des réactions passionnelles dans la ville.

//


Set in Germany and France in the immediate aftermath of the First World War, (1914-1918), Frantz recalls the mourning period that follows great national tragedies as seen through the eyes of the war's "lost generation": Anna, a bereft young German woman whose fiancé, Frantz, was killed during trench warfare, and Adrien, a French veteran of the war who shows up mysteriously in her town, placing flowers on Frantz's grave. Adrien's presence is met with resistance by the small community still reeling from Germany's defeat, yet Anna gradually gets closer to the handsome and melancholy young man, as she learns of his deep friendship with Frantz, conjured up in evocative flashbacks.