MOVIE CLUB "COMME DES GARCONS"
Wednesday, March 27, 2019 - 7:30pm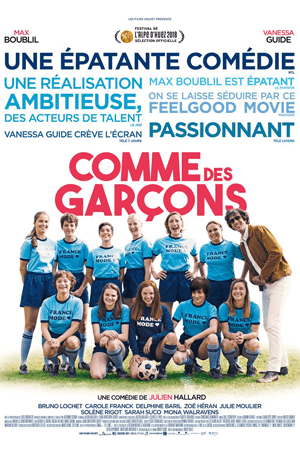 Alliance Française de Vancouver
$4 for non-members / Free for AF members
$4 pour les non-membres / Gratuit pour les membres
ENGLISH SUBTITLES / SOUS-TITRES ANGLAIS

"COMME DES GARÇONS" ("LET THE GIRLS PLAY") - 2018
De Julien Hallard
Avec Max Boublil, Vanessa Guide, Solène Rigot
Reims, France, 1969. Paul Coutard is a 30-year-old sports journalist at daily newspaper Le Champenois. Charming, childish and a womanizer, he does exactly what he pleases. Then one day, his boss forces him to plan the newspaper's annual fair together with Emmanuelle Bruno, the discreet and beautiful executive assistant. Paul has the crazy idea to organize a women's football match for the first time. With Emmanuelle's help, the project grows to unexpected proportions.
The story is based on the creation of first women's football team in France in Reims in 1968.
//
Reims, 1969. Paul Coutard, séducteur invétéré et journaliste sportif au quotidien Le Champenois, décide d'organiser un match de football féminin pour défier son directeur lors de la kermesse annuelle du journal. Sa meilleure ennemie, Emmanuelle Bruno, secrétaire de direction, se retrouve obligée de l'assister. Sans le savoir, ils vont se lancer ensemble dans la création de la première équipe féminine de football de France.

Le film s'inspire de la création de la première équipe féminine de football de France à Reims en 1968.