Home
›
Products
›
Afv-lightness-and-delicacy-with-les-french-gourmands
LIGHTNESS AND DELICACY WITH LES FRENCH GOURMANDS
Description:
Friday March 17, 2017, From 6pm - 9:30pm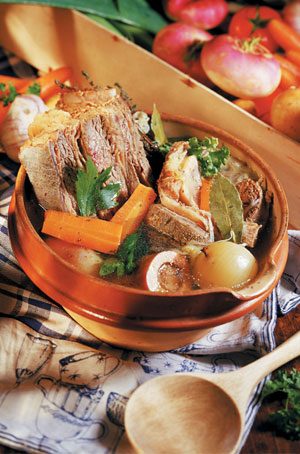 Alliance Française de Vancouver
Event in English

$81 for AF members
$90 for non-members
(Includes a glass of wine)
« LIGHTNESS AND DELICACY » by Les French Gourmands
Pot-au-feu & A citrus Cloud
March is a transition time. To help your body and your mind transition to Spring, indulge it with a very French dish: the "pot-au-feu". And discover "the citrus cloud", a light and energizing dessert!
Les French Gourmands will tell you all the cultural tricks and stories behind the "Pot-au-feu", a French beef stew and the most celebrated dish in France. And get ready to amaze your friends with the lightest and the most exquisite fruit dessert.


* Enter the games and contest to make you king or queen of the kitchen.
* Discover how to cook these typical French recipes
* And finally join your friends at the table to enjoy the meal as connoisseurs.

As a small group, you will find this event to be a unique opportunity to connect with old and new friends and to have a fun and cultural approach of French Gastronomy.
Events are in English, for all to join! We are looking forward to meeting you for a great evening together!
Please note
If you have any allergy or food intolerance, please be sure you can join the event safely.
If you have a question about ingredients, feel free to send us an email at info@lesfrenchgourmands.com.
The event is sold out?
We will be happy to put you on our waitlist. After that, get some friends to join, make a group of 5 to 8 people at least and let's organize a 2d session!!
And don't forget to join us on Facebook and Twitter to get more cultural insights and follow your gourmandise…

//
LEGERETE ET DELICATESSE
Pot-au-feu & Nuage d'agrumes

Mars est une période de transition. Pour aider votre corps et votre esprit faire peau neuve pour le printemps, autorisez-vous la douceur du pot-au-feu et et la fraîcheur du dessert énergisant que nous vous proposons.
Les French Gourmands vous invitent à découvrir les secrets d'histoire et de cuisine du "pot-au-feu", l'un des plats français les plus populaires. Soyez prêts à impressionner vos amis avec un dessert aux fruits léger et délicieux.

Prenez part aux jeux pour devenir roi ou reine de la cuisine,
Découvrez comment cuisiner des recettes typiquement françaises
Et passez finalement à table entre amis pour déguster le repas en connaisseurs.
La taille réduite des groupes vous donnera l'occasion de rencontrer des amis – anciens ou nouveaux et de profiter au maximum de l'approche ludique et culturelle de la gastronomie française.
Les événements sont en anglais, pour permettre à chacun d'en profiter !
Nous avons hâte de vous retrouver lors d'une prochaine soirée !!
A noter
Si vous souffrez d'allergies ou d'intolérances alimentaires, assurez-vous de pouvoir participer à l'événement en toute sécurité.
Si vous avez une question concernant les ingrédients, envoyez-nous un courriel à info@lesfrenchgourmands.com.
L'événement est complet ? Nous serons heureux de vous mettre sur notre liste d'attente. Après cela, vous pouvez proposer à vos amis de constituer un groupe de 5 à 8 personnes pour organiser une 2e session !!
Et n'oubliez pas de rejoindre notre page Facebook et notre fil Twitter pour plus d'actualités culturelles. Suivez votre gourmandise…
---
With: