LET'S CELEBRATE AFRICA: LIVE-CONCERT
Friday, February 3, 2017, From 7pm

Alliance Française de Vancouver


$15 for members
$20 for non-members
Free for Children (-12yo)


THE ALLIANCE FRANÇAISE DE VANCOUVER & AFRIKA21 CENTRE CULTUREL CELEBRATE AFRICA TOGETHER!


Come out and celebrate Black History Month with us!



We will bring the rhythms of Africa and the Caribbean to life with band Karakata Afrobeat, an exciting new Afrobeat group here in Vancouver featuring with Kurai Blessings and Dj TAZ! They will jam the dancefloor and getting hips swaying to a frenetic tribal pulse.

Afrobeat music is the kind of thing that "creeps deep into you as you listen to it" according to the band's founder, Toyinirawo Kayo-Ajayi (Kayo). Before you know it, your body is already dancing way before your brain considers doing so!
You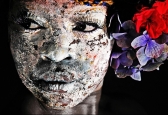 will enjoy the exhibition of FATIMA TAJAH OLSON, an artist based in Vancouver!

Her work is influenced by her African heritage, memories of her childhood and life experiences living in Africa. She is also inspired by different mythological tales from different tribes as well as the beauty of the female form, structure and faces from tribes around the world.


The event will also feature delicious cuisine, music, and dance from Africa and the world. Drinks will be available at the cashbar.



//

THE ALLIANCE FRANÇAISE DE VANCOUVER & AFRIKA21 CENTRE CULTUREL CELEBRENT ENSEMBLE L'AFRIQUE !

Venez célébrer le Mois de l'histoire des Noirs avec nous!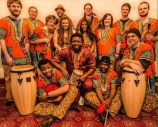 Nous allons amené les rythmes de l'Afrique et des Caraïbes à la vie avec le groupe Karakata Afrobeat, le nouveau groupe Afrobeat, à Vancouver avec Kurai Blessings et Dj TAZ! Ils feront trembler le dancefloor avec des musiques entrainantes!

La musique d'afrobeat «glisse profondément en vous comme vous l'écoutez», selon le fondateur du groupe, Toyinirawo Kayo-Ajayi (Kayo). Votre corps est déjà en train de danser bien avant que votre cerveau n'envisage de le faire!
Vous allez appriécier l'exposition de FATIMA TAJAH OLSON, une artiste basée à Vancouver!

Influencée par son héritage africain, ses souvenirs d'enfance et ses expériences de vie en Afrique, elle puise son inspiration également avec des contes mythologiques de différentes tribus ainsi que la beauté de la forme féminine, la structure et les visages des tribus à travers le monde.

Si vous en voulez plus, l'événement mettra en avant la cuisine, la musique, la danse et les arts d'Afrique et du monde! Les boissons seront disponibles au cashbar.

---
With the support of: