JAZZ GUITAR RECITAL : GENE BERTONCINI
Friday, October 6, 7pm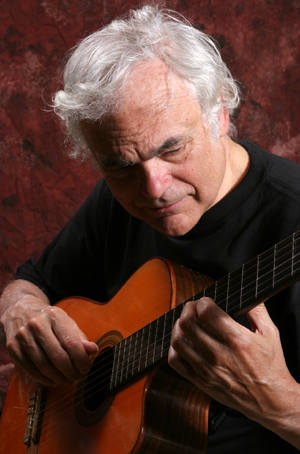 Alliance Française de Vancouver
$18 for AF members
$20 for non-members
BOOK YOUR TICKET NOW!

The Alliance Française de Vancouver is pleased to welcome Gene Bertoncini for a Jazz Guitar Recital Showcase!
Gene Bertoncini is one of the pre-eminent jazz guitarists' active today. His fluid technique and lyricism have won him international praise and accolades as the "Segovia of jazz." An eloquent and versatile improviser, Mr. Bertoncini has been heard with an extraordinary range of jazz greats, including performances and recordings with Benny Goodman, Buddy Rich, Wayne Shorter, Hubert Laws, Paul Desmond among others, as well as such distinguished singers as Tony Bennett, Lena Horne, Nancy Wilson, Vic Damone, and Eydie Gorme.
Biography

Born April 6, 1937 Bertoncini's musical roots go back to his early years in the Bronx where he grew up in a house filled with music. His love affair with the guitar began when he was seven, and by the time he was sixteen, he was appearing on New York television.

His career took an unusual turn when he decided to fulfill another long-standing interest, and took a degree in architecture at Notre Dame. He was quickly swept into the musical scene at the university, and the first thing he did after picking up his degree was to work opposite Carmen McRae in Chicago. He returned to New York to work with vibraphonist Mike Manieri, and then with a quintet led by drummer Buddy Rich.
In addition to an active performing and recording schedule, Gene teaches at the Eastman School of Music and William Patterson University.

According to the New Yorker magazine, "Bertoncini is an affecting, highly original guitarist that moves easily back and forth between classical and jazz guitar." Gene was nominated as the best jazz guitarist of the year (09) by the New York Jazz Press Association.
On January 20th, 2017, Gene Bertoncini received a distinguished award from the University of Notre Dame honoring his achievements in the performing arts. The Rev. Arthur S. Harvey, C.S.C., Award recognizes Gene's distinguished work
as a jazz musician.




//

Vendredi, 6 Octobre, 19h00
Alliance Française de Vancouver
L'Alliance Française de Vancouver est heureuse d'accueillir Gene Bertoncini pour un concert de guitare jazz.
Gene Bertoncini est l'un des guitaristes de jazz les plus éminents de sa génération. Sa technique fluide et son lyrisme lui ont valu des éloges et des distinctions internationales tel que le titre de «Ségovie du jazz». Improvisateur éloquent et polyvalent, on a pu entendre M. Bertoncini avec une gamme extraordinaire d'excellents artistes de jazz, y compris des performances et des enregistrements avec Benny Goodman, Buddy Rich, Wayne Shorter, Hubert Laws, Paul Desmond entre autres, ainsi que des chanteurs aussi distingués que Tony Bennett, Lena Horne, Nancy Wilson, Vic Damone et Eydie Gorme.
Biographie
Né le 6 avril 1937, les racines musicales de Bertoncini remontent à ses premières années dans le Bronx, où il a grandi dans une maison remplie de musique. Son amour pour la guitare a commencé lorsqu'il avait sept ans et, à l'âge de seize ans, il est apparu à la télévision à New York.
Sa carrière a pris un tournant inhabituel lorsqu'il a décidé de réaliser une autre passion de longue date et a obtenu un diplôme en architecture à Notre Dame. Il a rapidement été entrainé dans la scène musicale de l'université, et la première chose qu'il a faite après avoir obtenu son diplôme a été de travailler avec Carmen McRae à Chicago. Il est ensuite revenu à New York pour travailler avec le vibraphoniste Mike Manieri, puis avec un quintette dirigé par le batteur Buddy Rich.
En plus d'un important programme de performances et d'enregistrements, Gene enseigne à l'Eastman School of Music et à l'Université William Patterson. Selon le magazine New Yorker, "Bertoncini est un guitariste affectueux et très original, qui passe facilement de la guitare classique au jazz".
Gene a été nommé meilleur guitariste de jazz de l'année (2009) par la New York Jazz Press Association.
Le 20 janvier 2017, Gene Bertoncini a reçu le prix de distinction de l'Université de Notre Dame qui rend hommage à ses accomplissements dans les arts de la scène. La récompense 'Rev. Arthur S. Harvey, C.S.C.,' reconnaît également le travail distingué de Gene en tant que musicien de jazz.


---
With the support of: