FRENCH CHILDREN SHOW: TU PEUX TOUJOURS RÊVER
"Tu peux toujours rêver", Saturday October 15, 2016, 4pm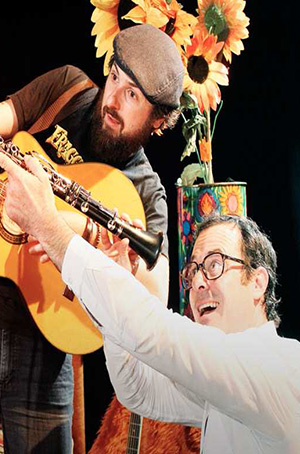 Auditorium Alliance Française
Adult 5$
Children (-12) Free entrance
L' Alliance Française de Vancouver vous ouvre ses portes pour un conte musical pour petits et grands "TU PEUX TOUJOURS RÊVER" !

Deux artistes français Alex Toucourt and Roberdam, interroge à travers leur spectacle, les questions d'apparence, de différence, de civisme et de rêves d'avenir.

"Jean-Mou est un enfant timide, sensible et exemplaire. Il a 7 ans et quart. Comme chaque année, il arrive chez sa grand-mère pour y passer les vacances d'été.
Jean-Fou, du haut de ses 8 ans moins le quart, est aventurier, turbulent et malicieux. Il vient tout juste d'emménager avec ses parents dans la maison voisine.
Ces deux petits garçons au tempérament diamétralement opposé, vont devenir très vite complices à travers leurs aventures et leurs rêves communs, remplis de surprises et de drôles de personnages.
Dans ce voyage en chansons, partageons leurs émotions et leurs péripéties, en nous promenant entre imaginaire et réalité... le temps d'un été."
Alex Toucourt (dans le rôle de Jean-Fou): Chant, guitare, ukulélé, basse, grosse caisse, samples, beat box
Dâm (dans le rôle de Jean-Mou) : Chant, banjo, accordéon, clarinette, glockenspiel, tchis tchis, beat box

***

Spectacle écrit et composé par Alex Toucourt et Dâm
Mis en scène et conté par Micky Sébastian
Durée : 45 minutes
A partir de 4 ans
//


The Alliance Françaiseoffers you the opportunity to attend the French children show "TU PEUX TOUJOURS RÊVER!"
Alex Toucourt and Roberdam, two French artists from France, introduce a musical tale for young and older dreamers.

"Jean-Mou is a very shy and sensitive kid, with an exemplary behaviour. He is 7 and a quarter years old. Like every year, he's visiting his grand-mother for Summer holidays.
Jean-Fou is 8 (minus a quarter) years old, he is adventurous, boisterous and mischievous. He just moved in with his parents in the house next door.
Those two boys, despite their very different personnality, will soon become best friends through common adventures and dreams, full of surprises and funny characters.
In this musical journey, share their emotions and adventures between imagination and reality... during Summer time."
Alex Toucourt (featuring Jean-Fou): song, guitar, ukulele, bass, samples, beat box
Roberdam (featuring Jean-Mou): song, banjo, accordeon, clarinet, glockenspiel, tchis tchis, beat box

***

Show written and composed by Alex Toucourt et Roberdam
Direction and storytelling by Micky Sébastian
Length: 45 minutes
From 4 year old