APERO CHIC: PARIS PLAGE
$8.00

CAD
Approx $6.02
USD
Friday May 27th, 6pm-8pm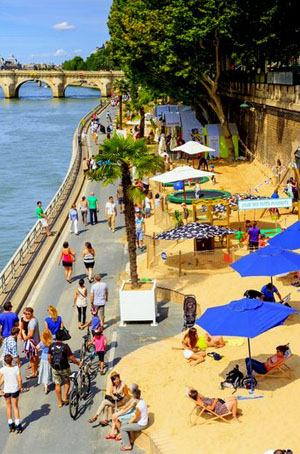 Alliance Française, Auditorium Georges Brassens

$5 for AF members
$8 for non-members
(entrance + glass of wine)


The sun is shinning bright and evenings are getting longer - no doubt left, summer is back!

Choose to celebrate it the Parisian way.
Enjoy how each year, Paris turns into a sea side city, with the river banks offering great beaches for everyone to experience the most incredible moments during these sunny days! Come spend an evening in the beautiful capital of France.

Laid back ambiance and good company lined up for you!
---

Le soleil brille de mille feux et les soirées se rallongent - plus de doute, l'été fait son grand retour !
Choisissez d'en profiter à la parisienne !
Venez (re)découvrir comment chaque année, Paris se transforme en ville balnéaire. Les berges de la Seine se changent en plages pour que tout le monde puisse profiter de moments inoubliables pendant ces longues journées ensoleillées. Venez passer une soirée dans la ville lumière !

Ambiance détendue et bonne compagnie au rendez-vous !