ATELIER D'IMPROVISATION OCT-DEC
$96.00

CAD
Approx $72.93
USD
Tous les lundis de 19h30 à 21h30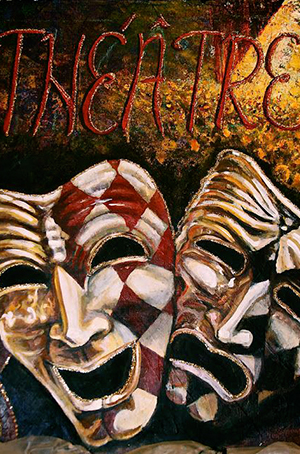 Du 1er octobre au 3 décembre 2018
Pas de cours le 8 octobre et le 12 novembre
Auditorium Georges Brassens, Alliance Française de Vancouver
$96 pour les non-membres
$80 pour les membres AFV
(Pour 8 cours)

ATELIER D'IMPROVISATION EN FRANCAIS
Le cours
L'improvisation vous titille ? L'Alliance Française organise un atelier d'improvisation théâtrale en français, ouvert aux comédiens débutants, intermédiaires ou confirmés. Lors de ces sept cours, vous apprendrez et mettrez en pratique les fondamentaux de l'improvisation. À travers des exercices ludiques, vous serez amenés à développer votre spontanéité, votre écoute et votre aptitude à créer des personnages. L'atelier mettra l'accent sur le développement personnel et le travail en équipe. Un niveau B1 en français est nécessaire.
Le prof
Tristan Le Rudulier a commencé le théâtre à l'âge de 13 ans. Il a tout de suite eu la piqure et, dès l'âge de 16 ans, a enseigné et mis en scène des pièces de théâtre avec les plus jeunes. Tristan a été initié à l'improvisation au cours de nombreux ateliers. Pendant quatre ans, il a eu la chance de jouer au sein d'une troupe d'impro à Montréal et participait à des spectacles mensuels.
À Vancouver, il s'est initié à l'improvisation en anglais et a suivi la série de cours de la ligue d'improvisation VTSL de l'île Granville. Il a ensuite créé la troupe d'improvisation "Impro & Co" qu'il a dirigé pendant un an et produit un spectacle qui a eu lieu à l'Alliance Française en avril 2017.

Durant son temps libre, Tristan écrit et fait également du "stand-up comedy".
//
IMPROV' WORKSHOP IN FRENCH
The workshop
Do you like improv'? Do you like improv' in French? The Alliance Française organizes a theatrical improvisation workshop in French. Beginners as well as experienced actors are very much welcome. During these seven workshops, you will learn and practice the basics of improvisation. Thanks to playful exercises, you will improve your spontaneity, your listening and your ability to create characters. The workshop will focus on personal development and teamwork. A B1 level in French is required.
The teacher
Tristan Le Rudulier started drama when he was 13 and became immediately passionate. From the age of 16, he has taught drama and staged plays with young people. Tristan was initiated into improvisation during several workshops. During four years, he was lucky enough to be a part of a theater company specialized in improvisation in Montréal and took part in monthly performances.
In Vancouver, he took up improvisation in English and attended the classes of the improvisation league of Granville Island. He then created the improvisation company "Impro and co" which he directed during one year and produced a show which was performed at the Alliance Française in April 2017.